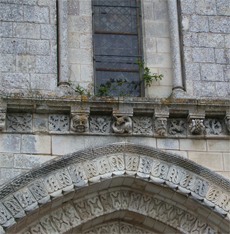 In the futile shade of a stripped tree
The Unicorn tastes the calm water
Born yesterday, she remembers her peer, the Dragon
Igneous, robber of Fire, who rises up
And walks for a moment in the hazy Cloud.
Silent and solitary, she becomes wind
Heavenly Zephyr, here she is embodied
Unexpected kaleidoscope of the rising sun
In the perennial shade of the summer tree.
The Unicorn and the Dragon
Alexis d'Acqueville
Ebola, elms disappearing, re-emerging diseases 2007-2008
Once posted here, information is purposedly uncorrected (except for spelling mistakes), to be used later as a raw material for a historical analysis of important events linked to diseases. Obsolete links are updated when possible, or removed.
Topics widely covered by the mass media, such as bird flu, are covered here in a very sketchy way. Information is provided "as is" and reflects the perception of the daily events, using available information in real time (using Internet forums in China, in particular, and trying to escape rumors). There may be contradictions from one day to a later one. In some cases links disappear (and when this happens we unlink the sentence pointing to the obsolete link when we are made aware of that fact): for example, on april 23rd, 2003, an interesting link described in details that existing treatments of SARS were inefficient and probably dangerous. This link was cancelled out a few hours after it was created, for unknown reasons.... We hope to understand the cause of this unwanted censorship in the future.
The structure of our societies creates our diseases, reminding us that epidemics are not separable from our way of life

.