These pages are provided "as is", in the form they had when they were created, except for typographic corrections when found. Links are periodically checked for validity. Unfortunately, the memory of the WWW is very short, and links become obsolete fast. In this case they are deleted. This implies that original information is progressively lost, exactly as in human memory...
30 august 2006. The journal Cell reports a study where researchers could alleviate some of the memory defect in a mouse model of Alzheimer disease. The research suggests that boosting the function of an enzyme known as "ubiquitin C-terminal hydrolase L1", may provide a promising strategy for counteracting Alzheimer's disease, and perhaps reversing its effects. We are far from applications to human, but this is a considerable step forward in the understanding of the disease. A outbreak of cholera (frequent in summer time) is not contained in Abidjan, Ivory Coast.
29 august 2006. The chikungunya outbreak is spreading in Southern India, now clearly present in the district of Coimbatore in Tamil Nadu.
26 august 2006. The Associated Press reports that Vietnam, which had been free from bird flu for several months, has detected the disease in ducks for the second time this month. The FAO points uncontrolled poultry trade in the region as a major cause of the spread of the disease. Plague continues to spread in a very worrying way in the region of Ituri in Congo.
24 august 2006. A completely new strategy might help fighting the AIDS virus. Nature Medicine (DOI: 10.1038/nm1482) reports that a team of investigators from the Université de Montréal and the Centre hospitalier de l'Université de Montréal observed that the immunocompetent cells fighting HIV (killer T cells) make more of a protein called PD-1 when then begin to lose their killing capacity and that this protein acts as a control of the cells behaviour. One could design drugs counteracting the effect or the synthesis of this protein to boost the immune response. There is still a long way until a drug is applicable however, as the protein exists in many tissue, suggesting that impairing its function might have deleterious effects.
23 august 2006.Ticks are vectors of many diseases in addition to Crimean-Congo fever. In particular they carry bacteria of the Borrelia genus, causing borreliosis, Lyme's disease being the most well-known such disease in developed countries. Recent investigations in Senegal have shown a very high incidence of borreliosis (more than 10% on a yearly basis), often mistaken for malaria, as it results in a cyclic pattern of fever. This rises the question of the overall incidence of the disease in Africa as a whole, as reported by allAfrica.com and this shows that the role played by ticks is probably underevaluated there.
22 august 2006. Turkey is witnessing a fairly large outbreak of Crimean-Congo fever, with 24 deaths since the beginning of the year.
20 august 2006. The Kathmandu Post reports that an unknown disease causing fever and bleeding has killed at least 14 people in the district of Nuwakot in Nepal. The disease appeared to have first appeared in dogs and chicken. This is reminiscent of symptoms of Crimean-Congo fever.
18 august 2006. Several reports suggest that many people in the Garut District of West Java Province have shown flu like symptoms. Two died recently and are being investigated. There is no evidence so far of human to human contamination, but, if confirmed this cluster is worrying.
14 august 2006. West Siberia is still witnessing outbreaks of avian flu, now in the Tomsk district, with domestic pigeons infected. Bangalore does not see chikungunya receding as Aedes mosquitoes continue to breed in the region and transmit the disease. It is likely that one million people have been infected in Southern India since the beginning of the year.
12 august 2006. The Scientist reports a remarkable discovery in cancerology. At least in dogs, tumor cells can be efficiently sexually transmitted, and propagate tumors through generations. The canine transmissible venereal tumor (CTVT) is present in dogs world-wide, and it correponds to cells that do not belong to their host, but were probably present as early as the time when dogs were domesticated. Dogs also make the headlines in China, where an epidemic of rabies has triggered culling (usually by hanging) of many dogs in the Yunnan province.
27 july 2006.It may be that as many as eleven more bird flu cases are recorded in Thailand's lower northern province of Phichit. 44 persons are under surveillance for H5N1 flu in Thailand. Poultry is dying in Laos, and bird flu is suspected. If these cases are confirmed this will be reported by the major media and we shall not further document that here.
25 july 2006. According to the Xinhua news agency four provinces in Thailand have been declared "red zones" for dengue fever. This situation is of great concern as, simultaneously there appears to be several cases of human H5N1 flu in Phichit one of the red zone provinces, while symptoms are superficially similar to those caused by flu. A puzzling case of Lassa hemorrhagic fever has been diagnosed in a previously sick patient who travelled from Sierra Leone to Belgium and Germany. All persons who may have had contact with the patient have been contacted.
22 july 2006. The number of arthropods-borne haemorrhagic Crimean-Congo fever cases is increasing in Turkey. Travellers are advised to beware of tick bites.
21 july 2006. According to Reuters news agency Bulgaria has detected bird flu in three farms. The identification of the virus is underway.
19 july 2006. First reported in December 2005 in Andhra Pradesh, chikungunya which began as an urban phenomenon, caused by mosquitoes of the Aedes genus ("tiger" mosquito) has spread rapidly to 1,408 villages in Southern India. The actual number of cases is not known but is probably very high.
14 july 2006.In Thailand, hundreds of birds, including poultry, have died from unknown causes in the eastern province of Chachoengsao over the past week, triggering an investigation over avian flu.
13 july 2006. Partial sequences of the H5N1 virus hemagglutinin gene from Nigeria is now available at the INSDC. Mutations in the gene will help tracing the origin of the virus, as there is still ongoing discussion whether it was brought in Africa by migratory birds or by imported chicken from Asia. At least two independent origins were found as published last week. The magazine Nature, basing a news report on confidential genetic sequence data — something quite unusual and departing from appropriate scientific information — shows that the H5N1 virus mutated multiple times as it spread through an Indonesia family last May. This is in line with what has been observed previously with the evolution of the SARS coronavirus, but the functional meaning of that particular evolution is unclear: it is not possible as yet to see whether the virus would evolve to favour further human to human contamination. An outbreak of legionellosis is affecting Amsterdam.
8 july 2006. An outbreak of African swine fever is affecting West and North-West Cameroon. This disease is caused by a DNA virus of an uncharacterized type which could be related to Iridovirus and Poxvirus. It results in high mortality, in particular in young pigs. In general pig diseases should be monitored very carefully as they might be source of emerging human diseases. In this case, the similarity with Poxvirus should be a matter of concern as the infamous small pox virus belongs to that family. The reservoir of the virus could be wild African warthogs and bush pigs, where it does not cause much symptoms. The virus can survive a very long time in contaminated environment. A great creted grebe has been found infected with the H5N1 flu virus in Spain.
7 july 2006. Avian flu has been introduced independently several times in Nigeria. Although this correlates with some routes of migratory birds the cause of the outbreaks could still be poultry smuggling. Two interesting works published in Neuron are likely to have demonstrated that Down's syndrome is due to a single genetic locus. Most of the impact of trisomy 21 would be that reduced retrograde transport or signaling of the neurotrophins NGF or BDNF account for the mouse model of the disease. This defect apparently causes degeneracy of a particular class of cholinergic neurons.
4 july 2006.An outbreak of the tick-borne Crimean-Congo Haemorrhagic Fever is affecting the Volgograd region in Russia. This dangerous disease in lingering in this part of the world as it was recently found in Pakistan.
2 july 2006.After the meeting of the First International Conference on Avian Influenza in Humans at the Institut Pasteur, the third ministerial meeting of the Ayeyawady (Irrawaddy)-Chao Phraya-Mekong Economic Cooperation Strategy (Acmecs) convenes in Laos tomorrow. It will discuss the situation of avian flu in this part of the continent as Laos has not reported any outbreak yet, while surrounding countries have. The Institut Pasteur is part of the reflection on the subject. Research in progress might put the bird flu scare away: ferrets immunised against a 2003 form of the virus were protected against the letal action of more recent forms. If extended to humans this would allow preemptive action and prevent creation of a pandemic. The virus is now present in the Taraba state in Eastern Nigeria.
1 july 2006. A new outbreak of H5N1 avian influenza among birds affects a town in the northwestern region of Ningxia.
28 june 2006. Bird flu is still on the rise in Siberia, now in the republic of Tyva.
24 june 2006.The Hong Kong Health Authority has set up an enhaced surveillance programme on infections that could be related to avian flu since a human case of avian influenza H5N1 was discovered recently in Shenzhen. Yesterday the authority had recorded 102 cases (61 male, 41 female, aged 2 months to 89 years) have been received, an increase of 12 cases on the day before. These patients have visited Guangdong, Hunan, Hubei, Fujian and Zhejiang before the onset of symptoms. Sporadic clusters of human to human transmission of bird flu have occurred in the past and recently in Indonesia, but, fortunately the virus did not evolved in a significantly more efficient form. Widespread vaccination of birds may help control the disease, as in Vietnam, but it also results in missing one major indicator of its spread, as mass dying of birds disappears. In Europe, tick-borne infection by Borrelia burgdorferi and related bacteria (Lyme disease, a disease somewhat similar to syphilis in its clinical manifestations) may be spreading. Unfortunately many European countries do not have time-series of epidemiological reporting of the disease. 14 june 2006. Since mid-may a pulmonary infection that appears to be pulmonic plague has killed more than 100 people in the province of Ituri, North East of the Republic of Congo. The plague bacillus is endemic in the region at least since february. Data are difficult to obtain as the region is extremely unsecure. Plague, which is present in many parts of the world in rodents kills between 1000 and 3000 persons every year.
13 june 2006. China reports a new suspected human bird flu case in Guangdong province, while an outbreak in Northern Ukraine leads to mass culling of poultry. The season of hanta virus infection in the US might be starting at a high pace.
9 june 2006. For several weeks now an unusual strain of Escherichia coli O157H7 is lingering in the United Kingdom, where it has caused several severe outbreaks (in Scotland and in England). This sorbitol fermenting strain, which has been isolated for the first time in Germany in 1988, does not readily grow on usual selective media meant to isolate this family of toxin producing pathogens. It may therefore be more widely spread than presently assumed. pitalized with flu-like symptoms associated to lower-limb weakness. Legionellosis is affecting the region of Pamplona in Spain.
1 june 2006. The chikungunya virus has probably reached Chennai (Madras) in South East India.
28 may 2006. The way the bird flu virus is spreading and becoming endemic in the world reflects in a vivid way the underlying political situation, with some link with the ecological status of the local region. Romania had to kill more than a million birds in the past few weeks, and it does not contain the disease. In the same way the disease is spreading in south west Siberia, now in Altaj. This may be linked to bird migration, but most probably associated to poor control of people's behaviour in the region. This is in contrast with the situation in Vietnam, where the authorities, despite the presence of many outbreaks, were able to put the disease under control. In Africa, as no wild bird is infected, it is clear that smuggling is the major cause of the spread of the disease, which is now regularly present in Nigeria, Ivory Coast and Burkina Faso (it is likely that it is present elsewhere as well). In Indonesia, the situation is a matter of great concern as not only outbreaks appear repeatedly, but as some outbreaks may be related to local genetic susceptibility to the disease (as likely witnessed in the recent death of several persons in an extended family).
21 may 2006. Seven person of a same family were contaminated by the dangerous tick-borne haemorrhagic fever Crimean-Congo virus in a mountain village in Pakistan. One passed away. The H5N1 virus is present again in Denmark, and the family cluster in Indonesia points to particular genetic sensitivity. The virus is also present in Moravia and in Czech republic.
20 may 2006. A cluster of seventeen cases of trichinellosis, one with neurological consequences, detected among members of an extended family living in the state of Mecklenburg-Vorpommern, eastern Germany, reminds us that parasites are still a matter of great concern, in particular in countries breeding a considerable number of pigs, such as China. The parasite, Trichinella spiralis, after crossing the stomach, develops first in muscle tissue of carnivorous or ominivorous animals, where it causes pain. It subsequently invades other tissues, progressively invalidating the host. Bird flu extended to the province of Novosibirsk on may 16th.
14 may 2006. In contrast with analysis of mutations of the H5N1 virus from Vietnam and neighbouring countries, indicating that the virus is resistant to adamantanes, a new study from the University of Hong Kong shows that most viruses from China and Indonesia are sensitive to these drugs, improving our arsenal to treat the disease in the case of a pandemic. Some improvement of the vaccine against the virus (addition of adjuvants) has been published in this week's Lancet. Work published last year at the ICDDRB in Bangladesh, shows that cholera epidemics are probably related to a dynamic of invasion of the bacteria, followed by mass destruction of the newly developing strain by bacteriophages. This was the hypothesis at the basis of bacteriophage therapy of infectious diseases proposed by Félix d'Hérelle.
12 may 2006. One third of the Comorean population appears to have been infected by the Chikunguya virus. The archipelago is located north-west of Madagascar and north-east of Mozambique. It seems therefore likely that the virus is lingering in Madagascar, located between Comoros islands and the island of La Réunion. The spread of the virus might have retarded identification of bird flu in Djibouti, where a young girl has been found with the disease.
8 may 2006. Bird flu is still present in three provinces of South West Russia, where more than 30 million birds have been slaughtered. The variant present there appears to be the variant that appeared last year in the Qinghai Lake district.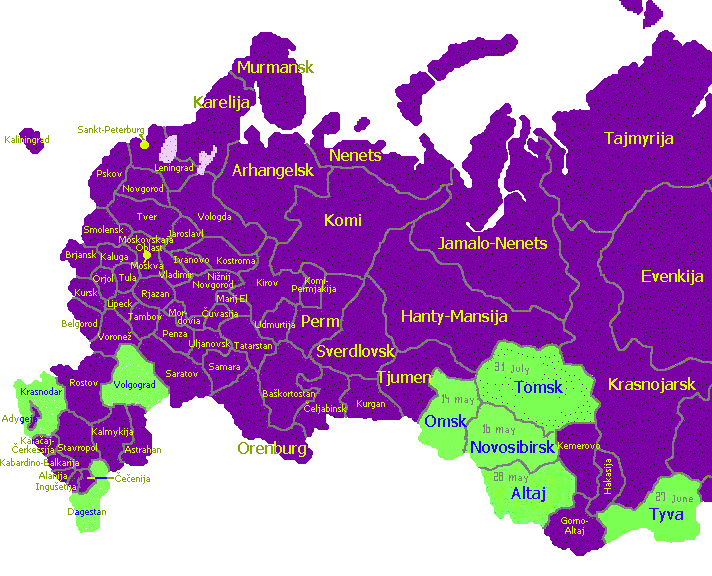 The controversy about the origin of the disease in Africa is more and more often pointing to a human origin, through contamination of by contaminated chicks smuggled from China. Cholera has now killed more than 1000 persons in Angola.
29 april 2006. Frightening diseases such as those caused by the Ebola or Marburg viruses do not have a considerable impact on the human population at large. This means that there is no pressure for the development of a vaccine that would be commercially viable. However, when there is an outbreak, the medical personnel is in great danger, while it can also be a factor of contagion, and it is therefore of the utmost importance to protect doctors and nurses from getting infected. A vaccine has been shown last year to be fully effective in protecting monkeys from both viruses. Now, The Lancet reports a study showing that a vaccine was active after being injected to monkeys 30 minutes after infection. This is of course remarkable, as this could be used by medical or research laboratory personnel in case of suspected contamination. The mode of action of the protection is not yet understood, and monkeys are not humans, so that much work still needs to be done to develop the vaccine, but this is a promising information for the rapid control of a deadly disease.
28 april 2006. Huang long bing (yellow dragon disease) has eradicated cultivated citrus trees is some parts of Asia. This disease, caused by an uncultivated bacterium tentatively named Liberibacter asiaticus, causes citrus greening, considerably altering the development of the trees. The disease may now be spreading in America, where it will add to the destruction promoted by Xanthomonas campestris pv citri (causing citrus canker) or by Xylella fastidiosa.
27 april 2006. Two outbreaks of the H5N1 avian flu have been uncovered in the outskirts of Abidjan, Ivory Coast. The disease seems also present in East Africa, in Mozambique.
26 april 2006. After the infamous "envelopes" with anthrax spores sent to US administration (the origin of which, american, not yet publicly revealed), it became particularly important to find an antidote to the most serious toxin (the "letal" toxin) of the bacteria. The magazine Nature Biotechnology, publishes interesting results which show that lipid vesicles, liposomes, containing peptides chosen to interact and neutralise the toxin, can be demonstrated to be active in vivo in an animal model. This same study has been extended to the cholera toxin, and here again, it appears to work as an excellent antidote.
20 april 2006. Since mid-march a severe outbreak of cholera is affecting Angola, while several cases have been reported in Cameroon. An International Course on Emergency Response to Cholera and Shigella Epidemics is ending at the Sasakawa International Training Centre, ICDDR,B, Dhaka, Bangladesh. The purpose of this course is to strengthen the capacity of international organizations and NGOs in managing epidemics due to cholera and shigella following disasters. Avian flu reached Sudan.
16 april 2006. The disease that killed chicken near Bondoukou, Ivory Coast, is probably not bird flu. A new outbreak is affecting Pakistan.
15 april 2006. Avian flu may have reached the north-east of Ivory Coast, in the region of Bondoukou. A suspect human case is investigated in Denmark. The way the virus is propagated in the world is not clear, and there is much discussion about the relative contribution of fowl smuggling and migratory birds. Strict measures that would restrict destruction of wetlands and marshes would certainly limit contact between Anatidae, the birds most affected, and poultry. A new epidemic of fever affects Maurice; it looks like chikungunya in its symptoms, but has a shorter course.
13 april 2006. Dengue fever, which was somewhat less intense last year in Vietnam than preceding years is on the rise again, with 20% more cases since the beginning of the year than at the same time last year. The capacity of malarial infection to suppress the patient's immune responses both to the parasite and to other antigens has long puzzled researchers. It has now been demonstrated that the pigment hemozoin inhibits the major sentries of the immune response, dendritic cells. Hemozoin is a crystalline substance produced in the digestive food vacuole of blood-stage malaria parasites formed from the heme group that makes the red color of hemoglobin. An undiagnosed apparently contagious disease has affected high school students in the province of Shanxi at the end of march and one student died of the disease, which is apparently is neither SARS nor influenza. The only reported symptom is high fever, so that it is impossible to have an idea of the cause of the disease.
10 april 2006. The annual epidemic of meningitis is affecting sahelian region (Burkina Faso and Niger where a vaccination campaign is underway.
7 april 2006. Chikungunya is spreading in southern India, with some 40,000 people infected in several places. It is likely that the epidemic will reach considerable proportions, knowing the enormous population of India. A remarkable discovery published in Nature yesterday has uncovered in insects a gene coding for a protein responsible for enacting movements (a particular type of myosin) which controls symmetry in the animal. We all remember that Pasteur, when working as a chemist, discovered that life was strongly associated to asymmetry ("asymmetry is life") as the hallmark of life; indeed, at the molecular level there is a disproportionate number of one form of a molecule with respect to its mirror-symmetrical counterpart. And, as a matter of fact, we are not spheres. Animals are constructed on two major axes, the antero-posterior axis, which defines the head and the tail, and the dorso-ventral axis which defines the back and the face of the organism. There is a third axis, which defines how organs are distributed inside the body. Most of us have their liver on the right and their heart on the left. In a rare condition, named situs inversus viscerum, the place of the organs is reversed. It is not yet clear whether the discovery in insects will extrapolate to vertebrates, but the discovery of some elements of the control of the third axis of development of the embryo is fascinating.
6 april 2006. The Aedes mosquito-borne viral fever chikungunya is affecting several hundred persons in a coastal village of Malaysia. It is also present in India. Bird's flu continues slowly expanding in the world. After West Africa, new cases are found in Egypt, Cambodia, Indonesia (where it is now well established, and where, unfortunately, authorities burn alive all kinds of birds including species on the verge of extinction, without discrimination nor evaluation of risk). Until recently, the standard "humanisation" of the influenza virus is from ducks to pigs to humans. We need to consider now another possible route that should be monitored carefully, from chicken, to domestic cats, to humans, as the number of infected cats is on the increase everywhere (felines have been known to be infected very early on).
4 april 2006. An outbreak of avian flu is affecting Gampèla, 15km east of the capital, Ougadougou, Burkina Faso.
2 april 2006. An imported case of chikungunya viral infection has been diagnosed at the Prince of Wales Hospital in Hong Kong, affecting a man just returning from Mauritius. Hong Kong is regularly affected by dengue fever episodes, the virus of which is also transmitted by mosquitoes of the same family (Aedes) as that which transmits chikungunya.
1 april 2006. An interesting study published by the fashionable magazine Nature will reignitate the debate about the meaning of the widely spread Intellectual Quotient (IQ) and its relation to human intelligence. While what IQ measures is indeed controversial (the best definition of intelligence is the number of backward steps a person can go to infer causes of an observable, as defined by Jean Piaget, something that can only be indirectly related to IQ) it is of considerable interest that there is a strong correlation between the measure of IQ and the physical development of human-specific brain structures. One important feature of this work is that it shows that IQ is related to brain development, from childhood to adolescence, with a strong correlation with the time when the skills of language and writing are acquired and developed, suggesting a correlation between brain development, skills measured by IQ, and, for example the active vocabulary available to a person (i.e. the number of the words that spontaneously come to mind at a given time to speak about something). As can be expected, this emphasizes not the genetic background of a person, but its epigenetic unfolding, a property that, unfortunately, is not widely understood by those who either emphasize the role of genes or the role of the environment in the becoming of a human being.
30 march 2006. The first study of a human vaccine similar to the annual vaccine against the influenza virus H5N1 is somewhat disappointing as it showed that only half of the inoculated persons would be protected, even with a fairly large dose. However this result is promising as protection was demonstrate, suggesting that more complex protocols (such as including an H5 component in the annual usual vaccine) might be rewarding.
29 march 2006. Creation of Genetically Modified Organisms may have interesting outcomes: an American group of investigators created pigs that are able to transform part of their omega-6 fatty acids into the omega-3 variety. These animals will be used as models to understand better the role of these fashionable lipids in the well-being of animals (and perhaps humans). It can be predicted, if the outcome is positive, that these animals will soon be used for human consumption! Avian flu is continuing to spread: now in a kibboutz in Israel and in Jordan, while the situation in sub-Saharan Africa remains difficult to monitor. A surge in tuberculosis is witnessed in Kenya where more than 100,000 people were affected by the disease last year.
23 march 2006. As in the case of the infamous SARS coronavirus, a kind of which infected pigs in a 1983-1984 episode by changing tropism from the intestine to the lung, the H5N1 influenza virus shifts tropism from birds' gut to human lungs. This accounts for the contamination spread by some migratory birds as the virus is stable for some time in birds' dejections. It is therefore important to monitor the way the virus attaches to epithelial cells. The viral hemagglutinins (the "H" marker in H5N1) bind to host cell receptors decorated by complex sugars with a terminal acidic end, sialic acid which attaches to the sugars via a variety of specific links. Avian viruses bind to receptors of intestinal cells with a-2,3-linked sialoglycan, while human flu viruses are usually specific for the 2-6 sialoglycan link of the lungs cells. It is therefore expected that a change in the receptor binding properties of the avian virus will lead to a virus which would communicate between humans in their respiratory tract. An intermediate host is possible, as often the case and pigs are important candidates as they interact often both with humans and with birds in small farms. Monitoring the change of tropism between the digestive tract and the respiratory tract is therefore of the utmost importance. Two research international collaborations have independently uncovered the target of the H5N1 virus in humans deep in the lungs, explaining why human patients do not shed the virus in the environment.
21 march 2006. The H5N1 flu outbreak that recently affected the south of Israel (where two more sites have been found in the Negev desert) is likely to have been brought in by somebody coming from Egypt (contaminated shoes or clothes are the likely vector). Flu is confirmed in Myanmar, Pakistan, Afghanistan and Denmark. Five persons died of the disease in Azerbaijan and one in Egypt.
18 march 2006. In line with our concern, avian flu is on the rise in Africa: more than 200 cases of suspect birds deathshave been recorded in Tshikapa, Congo Democratic Republic, Kasaï province (centre) and in Kinshasa-Kingabwa six pigeons and a cat which ate one of the pigeons have been found dead. Congo is also witnessing a cholera epidemic in the region of Uvira (South Kivu). The familial cases of flu uncovered in Azerbaijan were indeed caused by the H5N1 virus. Fortunately, this was not the result of interhuman contamination. Human cases keep being recorded in Indonesia. In Denmark, a wild common buzzard (Buteo buteo) was found contaminated on Svinø beach on the southern coast of the island of Zealand. The question of a possible pandemic remains open if one considers that, despite the fact that there has never been any human flu caused by a H5 virus (the only recorded cases are the result of direct contamination from birds), the descent of the virus groups together the H5 marker, with markers H1 and H2, both at the origin of a pandemic (1918 and 1957).
12 march 2006. Poliomyelitis, which had been almost eradicated in 2001 thanks to the WHO eradication programme, when less than 500 cases were recorded worldwide, is on the rise again, mainly due to sub-optimal vaccine coverage. Several large outbreaks were recorded recently in Yemen, Somalia and Indonesia (almost 2000 cases have been reported in 2005). As can be seen this covers areas where the avian flu H5N1 is now setting up and probably becoming endemic (Africa has now cases in the south of Nigeria – in fact in 11 out of its 37 states – and the north of Cameroon), demonstrating that it will be impossible to control dangerous diseases reservoirs in the near future even when vaccination is available because of poverty and political instability. Polyomyelitis is particularly illustrative as the reservoir is Man. As is unfortunately common during this hot and dry season, Burkina Faso is affected by an outbreak of bacterial meningitis.
10 march 2006. "Vaccinating" mosquitoes against a disease they transmit has long been a dream. This is now reality for one type of dengue viruses. American scientists have succeeded in reprogramming the genome of Aedes aegypti mosquitoes so that they would destroy the dengue virus as it replicates. The idea was to use an in-built mechanism of animal cells which controls the amount of RNA when it is forming a double helix (which is not the most usual functional form of RNA) by cutting it into pieces. Indeed the dengue virus has an RNA, not a DNA genome and it must replicate it, going transiently through a double helix form. As the genetically modified mosquitoes have already seen part of that double helix (this is what is reprogrammed to be expressed from their genome), they destroy the replicative form of the virus. The long term idea, now, is to replace the population of contaminated mosquitoes by the new ones, a strategy that has been successfully used (in a different way however) to control the transmission of the New World screwworm fly Cochliomyia hominivorax when it invaded North Africa. From 2002 to 2005, 21 countries which were previously polio-free were affected by cases imported from what were the six remaining six countries with endemic wild polio virus (WPV) type 1 circulation (Afghanistan, Egypt, India, Niger, Nigeria, and Pakistan). Most of these were from Nigeria, while three importations were from India. For eight countries, imported WPV cases did not result in sustained transmission, but in the remaining 13, WPV caused multiple outbreaks. In 2005, 1983 cases of poliomyelitis were reported worldwide, and 50 were caused by vaccine-derived polioviruses.
9 march 2006. Evidence seems to be accumulating showing that Aedes mosquitoes are not only the vectors for the chikungunya virus, but also one of their reservoirs. This opens a new avenue for investigating reservoirs of vector-borne pathogens such as the widespread dengue virus.
6 march 2006. While, dengue fever is highly active in the island, the chikungunya virus is confirmed in Madagascar. The size of the island will probably make it uncontrollable for a fairly long period of time.
4 march 2006. The Department of Health of Hong Kong has informed on march 3rd that a 32-year old man most probably died from bird flu in Guangzhou (Canton). A man died of the disease recently in Iraq, and an outbreak is affecting Azerbaijan again, where the governement decided to cull 500,000 birds. In Burkina Faso (West Africa), fowls are dying massively west of Ouagadougou. This is probably not due to avian flu however. The WHO will convene on march 6th, an international meeting to discuss influenza pandemic containment strategy.
28 february 2006. For the first time, an experimental study has demonstrated a direct genetic effect on the brain sexual dimorphism that is not mediated by the sole effects of gonadal hormones, as believed until now. The product of gene SRY, which is specific to the male chromosome Y is expressed in the brain and controls synthesis of the important neuromediator dopamine. Present in Europe in Sweden, and probably the cause of the death of a cat in an island of Northern Germany, avian flu is likely to have reached Niger and Ethiopia in Africa.
26 february 2006. The epidemic of chikungunya virus (a member of Togaviridae) infection affected at least one person in six in the island of La Réunion. Starting for Comoros Islands early 2005 it spread also to Ile Maurice and Mayotte and is behind a recent mystery fever in the state of Andrah Pradesh in India. It is not yet clear whether it has affected Madagascar, but this looks inevitable (cases have even be recorded in France, from persons infected in La Réunion). The disease was first identified in East Africa in 1953 and is transmitted by mosquitoes (typically of the Aedes group). Its reservoir is not known but may be primates of tropical African forest. The reasons for the recent epidemic are not clearly understood, although it is apparent that people in La Réunion were often reluctant to see their places spread with insecticides. The virus has regularly been the cause of outbreaks in Asia, as far as Thailand and Indonesia. As often the case, it is not understood how the virus can reappear after several years of silence. One must probably include Swizerland in the list of European countries affected by avian flu... An interesting study from the USA and Germany shows that vitamin D is important to stimulate the innate immune response against the bacilli responsible for tuberculosis. This study is not only interesting because it explains at least in part the larger susceptibility of Afro-Americans to the disease (they have less vitamin D in their blood stream), but also because it reminds us that mice are not a good model to describe some of the aspects of innate immunity in Man.
25 february 2006. The enormous emphasis by media on avian flu may trigger inappropriate responses and may mask other outbreaks (this was the case, back in february 2003 at the onset of the large SARS epidemic). While we know that we will be able to construct a vaccine if and when a variant of the bird's virus will propagate between humans, the way we will construct the vaccine should be considered with extreme care. Our best experience is with vaccines built using fertilized eggs, but the enormous amount of doses needed to get enough eggs will pose a serious logistics problem. This is why many advocate the use of animal cell cultures: we should exert in this domain the utmost care, as cell cultures are prone to propagate many unknown viruses, and, of course prions (the cause of Transmissible Spongiform Encephalopathies, such as the Mad Cow disease). This is of particular concern, as TSE's incubation time is extremely long, sometimes several decades. In the mean time surveillance may have useful outcomes: for example the Centre for Disease Control in Taiwan, while implementing measures to control persons entering the country with high fever (infrared cameras monitoring) in the hope to control H5N1 flu, detected several cases of dengue fever, thus showing that the latter disease needs to be monitored seriously.
20 february 2006. Correlation is not cause: this should be repeated again and again. The fact that migratory birds have been identified carrying the H5N1 virus does not mean that they are the cause of the spreading of the disease: they are simply sentries showing that the disease is present. In fact the presence of the disease is tightly linked with widespread fowl trade and large breeding centers (where one finds also other influenzae, such as H7N7 or H5N2). Remarkably, the disease did not spread in countries where there is a tight control on poultry trade. Large aviaries often breed highly consanguinous animals, and it is expected that this creates a dangerous niche for animals susceptible to emerging diseases.
19 february 2006. Until now the spread of human influenza in Europe is on the low range, but not exceptionally low (the widespread vaccination of people afraid by the H5N1 virus and who thought they might be protected by a vaccine against a somewhat similar virus might have played the role of herd protection, however the statistics do not support that hypothesis). This is of interest as the avian flu virus H5N1 is spreading throughout Europe, raising fears that it might infect somebody already infected by human flu and allowing recombination into a new virus (see the analysis of the H5N1 virus origin back in 2001). This year it corresponds in Europe to two virus types, A and B, with A of the H1N1 and H3N2 types, with many different variants.The distribution in the USA is totally different, with only a very small proportion, this year, of type B viruses. It may be useful to recall some of the facts about the influenza virus, a usual commensal of birds, with preference for Anatidae (ducks and geese). This cytopathic orthomyxovirus is made of 8 single stranded RNA fragments (7 for influenza C), making enveloped virions 80-120nm in diameter. The RNA is associated into a helical structure with a nucleocapsid protein (NP). NPs can be separated by immunochemical techniques into three types, A, B and C, which makes the classification of human influenza viruses. Four major antigens are recognized by the infected hosts, the hemagglutinin, made of two subunits which mediate the attachment of the virus to the host cells (the "H" symbol in H3N2 or H5N1), neuraminidase (N), the nucleocapsid protein (NP), and the matrix protein (M). Other components are less interesting from the immunological point of view but are extremely important for the multiplication (and hence virulence) of the virus. This is the case of the subunits of the polymerase. Type B and C viruses are specific to humans: they have probably evolved from a bird's virus origin, but adapted to humans and now infect people on a regular basis. Influenza A is most probably still in its adaptation phase, being continuously transmitted from birds to mammals, usually via the food chain (for humans this means breeding practices, with the standard route from ducks to pigs to humans, at least at the time of small farms).The usual cycle has been: a large-scale epidemic followed by one or several decades of adaptation of the virus with milder epidemics in parallel with evolution of the major antigens of the virus, then a new large-scale epidemic etc. It appears that pandemics are usually associated with a change in the H antigen: the Spanish flu of 1918-1919 was due to a H1N1 virus (the progeny of which is probably still circulating, after several decades of disappearance), the 1957 episode was H2N2 and the Hong Kong flu of 1968 was caused by a H3N2 virus, the progeny of which is still active world-wide.The cause of this particular kind of variation is still not completely understood: it may result from reassortment/recombination of two viruses in a common host (animal or human), from revival of a virus circulating at a low level in the human population somewhere and taking the opportunity of the population becoming susceptible again after a few decades, or from a direct transmission from animal to humans of an animal adapted virus. The latter hypothesis appears to fit with many emerging diseases such as SARS for example. In that case, the fact that no known human flu epidemics was caused by a virus of type H5 would not mean that it cannot spread to humans in a transmissible fashion.The virus has now reached Iran and India and is probably present at several places in Africa, not only in Nigeria, but also in Egypt and perhaps in Niger.
17 february 2006. Dengue fever is on the rise in South East Asia and in Yogjakarta in Indonesia, and the epidemics sometimes overlaps with that of avian flu. Newcastle disease kills many birds in Turkey and Ukraine, also overlapping with avian flu. A patient probably died from the disease in Iraq. Iran is affected. Many birds have been infected throughout Europe (noticed mostly in wild swans as they are bid animals, easy to spot when dead). Retrospective analysis and surveillance in different parts of the world indicate that the virus is well established in South East Asia and China, where it evolves slowly and infect mammalian predators and scavengers. No human to human contamination has been noticed yet. France will vaccinate its poultry in some areas in the South of the country using a H5N2 vaccine produced by the company Intervet and assumed to provide wide protection against the H5 type viruses. Scientists are investigating family clusters, apparently somewhat more frequent than expected, to explore whether there is a genetic contribution to sensitivity to the disease. The numbers are small however and probably not statistically significant.
13 february 2006. There is no need to write long developments about the spread of the influenza H5N1 virus, as the topic is highly covered world-wide: the virus is now present in Greece and Italy, continuing is expansion westwards. The most worrisome is its spread in Africa, where it is likely to become endemic. For the time being the economic consequences of the disease begins to be considerable in poultry industry, and as chicken are perhaps the main source of proteins in sub-saharian Africa, this is likely to be highly damaging for the population's health. Bacterial meningitis is spreading in the United Kingdom and in the USA for some time; an epidemiological study has shown that, as might be expected, this is due to the behaviour of teenagers having multiple partners. It has long been known that a significant transmission of the Epstein-Barr virus - the "kissing disease" - follows the same route in teenagers. However, meningococcal meningitis is mostly a severe disease that affects sahelian regions every year at the end of the winter, when hot dry weather dominates. It is now already affecting Ethiopia, where a vaccination campaign has begun.
9 february 2006. The Chikungunya virus is still spreading in the island of Réunion, Maurice and Seychelles. It might have reached Madagascar, where many patients suffering from fever are flooding the hospital of Toamasina. Greece may have its first H5N1 cases in wild swans.
8 february 2006. The battle against H5N1 flu seems to be a victory in Turkey, as almost 10 million fowl has been culled to control the spread of the disease. Unfortunately more birds appear to be infected in Hong Kong (where households have been banned to raise chicken), and, worse, the virus may have reached Africa. The World Organisation for Animal Health (OIE) has released information that a massive infection was reported in Jaji, Igabi, Kaduna State, in Nigeria in a poultry layers commercial farm in which ostriches and geese were also kept. The geographical position of Nigeria is such that this would mean that the virus is present in many places of the continent. It is unfortunately clear that this means that the disease will remain out of control for a long time (as it is in Indonesia for example). The only positive side is that, as for now, there has never been known large human outbreaks of influenza in humans caused by a virus of the H5 type.
2 february 2006. Several wild birds have recently been found infected with the H5N1 virus in Hong Kong (including a crested myna in a playground), but some concern was visible when a chicken smuggled from the Mainland was also found to carry the virus. Persons in contact with the dead bird are being investigated. The natural birds reserves have been closed by the authorities.
1 february 2006. The area of H5N1 flu is slowly extending, with the virus now present at several places bordering Turkey: Iraqi Kurdistan, where a young girl died and Cyprus where birds were found to be infected. Central China is witnessing outbreaks in Sichuan and in Northern areas. There is still no indication of any person to person contamination, and it must be stressed again that we do not have yet cases of epidemics triggered by an H5 virus in humans. While there are many outbreaks of cholera in Africa and in Asia, the International Centre for Diarrhoeal Disease Research, Dhaka, Bangladesh (ICDDR,B), popularly known as the Cholera Hospital locally, will host a conference on "Combating Malnutrition and Intestinal Diseases in Children: Are We Doing Enough?", next week (6-8 february). In guerilla torn Ivory Coast, a survey by the National Programme for the Fight against Mycobacterial Ulcers has discovered that 22,000 cases of Buruli ulcers affected the country last year, a marked increase on the number recorded in 1997 (4,642). Buruli ulcer, which often requires amputation of the affected limbs is caused by Mycobacterium ulcerans, a close kin of the bacteria causing tuberculosis and leprosy.
26 january 2006. Viruses come in a variety of forms (as do computer viruses). In particular they are small genome programs that may be made either of RNA or of DNA protected into a more or less complex envelope: are these "flavours" of a piece of genetic program recognized in the same way by the first level of the host defence (the so-called innate immunity)? A study published in the journal Immunity, involving the bacterial pathogen Legionella pneumophila (the cause of the infamous legionellosis, "legionnaire's disease", after multiplying in the cytoplasm of host cells) has shown that DNA triggers a first line response that completely differs from that triggered by RNA. DNA of the pathogens is recognized because in contrast to that of the animal hosts, it is usually not chemically modified when it contains CG dinucleotides. The study of this new defence pathway may help design new drugs to interfere with DNA viruses and intracellular bacterial pathogens.
22 january 2006. Many viral diseases, such as dengue fever, endemic in subtropical regions, are transmitted by mosquitoes. Several outbreaks of infection by the Chikungunya virus (in swahili "to walk bent", because of the terrible joint pain it causes), transmitted by mosquitoes of the genus Aedes, have been recorded by the surveillance system in the French island of the Réunion. More than 7000 cases have been registered in the island during the past year. Since the end of december, one witnesses an important increase in the number of new cases, with the climate becoming favorable for the development of the vector mosquitoes. As usual, the control of such outbreaks depends on the elimination of niches convenient for larvae in particular in subuurban areas (empty cans, old tyres, flowerpot saucers, buckets, etc...). Twenty grave forms (13 infants and 7 adults) with hospitalisation in an intensive care unit have been recorded. On the front of avian influenza, the situation continues to evolve, but it must be noted that we have no experience ever of a human epidemic caused by a H5 virus, which makes any prognosis about the future of the possible pandemic extremely hasardous.
20 january 2006. Hong Kong, which regularly witnesses the presence of the H5N1 virus in dead birds, but did not have such cases recently, discovered the virus in a dead magpie robin near the bird's reserve at Tai Po. The authorities were somewhat concerned as we are approaching the Chinese New Year, because people in the region prefer eating fowls that they bought alive, keeping very active the live birds markets.
17 january 2006. The Lancet publishes a study based on evidence gathered from Zanzibar showing that, contrary to common belief, giving generalised iron and folic acid supplements to young children in malarial areas results in a slight increase in the likelihood of those children being admitted to hospital for diseases. Malaria causes severe anemia, and it has been believed that in order to improve the condition of patients it would be good practice to restore their iron supplement as well as cell multiplication by intake of folic acid. It now appears that the remedy could be worse than the disease, as, perhaps, anemia protects against further multiplication of the parasites. However a parallel study in Nepal did not show any adverse effect of the supplementation. The comment of the editors of The Lancet is that, at this point, it remains likely that iron and folate supplementation in regions of malnutrition may probably be beneficial on the long term.
15 january 2006. A picture of the evolution of the H5N1 avian flu virus is emerging. As we recalled recently, hemagglutinin (H) and neuraminidase (N) aside, several other features of the virus are of major importance for its virulence. In particular, the polymerase B2 gene (PB2), involved in viral replication, seems to be crucial. Last summer's outbreak in the Qinhai region in China showed that the PB2 gene carried a G–>A mutation, at its codon 627, changing a glutamate amino acid residue in the protein into a lysine. This type of change (from G or C to A or T) is frequent in parasites, including viruses, for metabolic constraints in the host cell . Remarkably, this same mutation had been observed earlier in infection of mammals (tigers in Thailand in 2004), and it seems to be present in Turkey. This is consistent both with epidemiology (with migratory birds migrating westwards from the Qinhai region) and with the apparently more infectious phenotype of the virus, which, in addition to alteration of replication efficiency, seems to have often acquired a tropism for nerve cells with this mutation. It is remarkable that this same mutation was present in the H1N1 virus which caused the 1918 pandemic. Consistent with this observation, a Dutch study just appeared in the American Journal of Pathology, shows in cats that the virus can be spread from animal to animal, and that the route of infection is much more varied than simple pulmonary infection.
10 january 2006. At a time when avian flu seems to be spreading in Turkey, including to the Istanbul region, and cause more fatalities in China, a retrospective study in Vietnam by Swedish epidemiologists is "consistent with transmission of mild, highly pathogenic avian influenza to humans and suggest that transmission could be more common than anticipated, though close contact seems required. Further microbiological studies are needed to validate these findings." This indicates that it may be that many more people have been infected by the H5N1 virus with no or only mild symptoms. The unusual clustering of fatalities in families, involving children or young adults is however a matter of concern.
7 january 2006. An unusually large cluster of human cases of avian flu is active in the region of Van in the east of Turkey. Three children from the same family died from the disease after having been in close contact with poultry. A fourth child of that family is still in hospital. The reason of the worry is that 19 other persons are ill in the same region. However a child who died yesterday, from an unrelated family tested negative for the virus, but this might be a false negative result. The WHO is monitoring closely this outbreak as the size of the cluster might indicate that the virus is becoming able to spread from person to person. However people are in close contact with poultry throughout that region. Two wild ducks have been found carrying the virus in central Turkey, suggesting that migratory birds could be spreading the virus.
31 december 2005. At a time when avian flu outbreaks are found everywhere it may be important to recall that flu viruses, even with the same name, are not equivalent to each other. Many variant proteins of the surface of the virus envelope, sixteen hemagglutinins (the "H" in the name) and nine different neuraminidases (the "N") have been identified to date. Before genomics, immunochemical and biochemical tests were used to identify pathogens: hemagglutinin and neuraminidase were the first antigens of the flu virus to be identified, and the nomenclature was built around them. The virus types are numbered according to when they were discovered; H1 was identified first. When the genes were identified it appeared that the virus was made of discontinuous segments which can be reassorted when two different viruses infect the same host cell and that they code for eight proteins. A H5N1 virus can therefore harbour a panoply of six other genes, coming from various sources. Some combinations are innocuous, some are letal and the virulence is, of course, different for birds and humans. This is why there is a strong controversy about the creation of a live vaccine to vaccinate poultry: while the vaccine virus might be innocuous, it might reassort with another virus and create a dangerous variant. The Chinese authorities – another victim in the country was apparently never in contact with fowls – have recently claimed to have created a live vaccine for their huge poultry flocks: fortunately it appears that the vaccine uses the Newcastle virus, not the flu virus, which has been genetically engineered to display the flu virus antigens on its surface and therefore trigger both an anti-Newcastle disease and anti-flu immune response.
28 december 2005.Cholera is back in Douala, Cameroon, and one fears that an epidemic will start from there in january. Fowls died again in Turkey, affected by type H5 flu. The final diagnostic is not yet available but several parts of the village of Köprüler, near the town of Aralik have been quarantined.
27 december 2005. For some time there has been a controversy about the efficiency of vaccinating poultry to prevent emergence of a H5N1 human variant pandemic. A study from Wageningen University in Netherlands studied the effect of vaccination on transmission of the less dangerous variant H7N7 that has led to several serious episodes in the past few years. The showed that vaccination was able to reduce the transmission level to such an extent that a major outbreak would be prevented. This is a very optimistic view for the control of the dangerous H5N1 virus. While there is no final analysis of the cause of death of wild birds in Malawi it is unlikely that it was due to the avian flu virus.
17 december 2005. Birds may be suffering from bird's flu in the south-east African republic of Malawi, where thousands of migratory birds have been found dead. The cause of the death is not yet known. The disease is still developing in China with new human cases. In the same issue of the magazine Science, where the Corean cloning investigator Woo-suk Hwang retracts his paper on patient-specific human stem cells (which made headlines recently), Keith C. Cheng from Penn State University, describes a gene he has discovered in the model zebra fish (Danio rerio) which controls skin pigmentation. The remarkable observation he makes is that this gene is conserved in vertebrates, and that a single polymorphism (a single base change, a G to an A, changing an alanine of the gene coded protein SLC24A5 into a threonine) controls dark pigmentation in humans. The alanine variant is present in dark skinned people, while the partially dominant threonine variant makes skin color much lighter. This variation, uncovered by the Hapmap consortium, corresponds to a single change in the 3 billion letters human genome. It is amusing to see that such a minute difference could have such important sociological and political consequences, with the widespread positive sexual selection associated to lighther skin complexion.
16 december 2005. A thorough summary about the situation of H5N1 flu raises hopes and concerns. Curiously, it does not seem to consider the episode of february 2003, which overlapped with the onset of SARS. After a relative decline in 2004, infections due to the mosquito-borne West Nile virus have increased again this year in the United States.
15 december 2005. Many strains of the influenza virus are propagating at the moment in the Northern hemisphere. In a routine check health authorities in Taiwan found two mild strains of the virus in feces of birds at the Guandu reserve. These strains, H5N2 and H7N3 have been recorded earlier in Japan or in Taiwan. The dangerous H5N1 strain is still active in Indonesia, South East Asia, and at the border of Europe, in Ukraine and in Romania.Year 2005 will probably be a record year for dengue fever, in particular in South East Asia. Malaysia, Thailand, and even Singapore have been seriously hit. The disease is usually more dangerous upon the second infection. There is no good vaccine at present although this would be the best protection, as the symptoms of the disease usually appear after the virus has disappeared from the body, precluding efficient use of antivirals.
7 december 2005. Apparently, a school teenager in China GuangXi province has been confirmed with H5N1 avian flu infection. Surprisingly she had no contact with poultry, and there was no birds mortality in the region.
3 december 2005. The Lancet publishes the work of a team of researchers from Cambodia, France and Senegal showing that some resistance to the newly available drug against malaria, artemisin, is already emerging in French Guiana (South America) and Senegal (West Africa). Artemisin, isolated from Chinese Traditional Medicine, was a promising drug to replace treatments that have become ineffective.
2 december 2005. The normal hosts of avian flu are ducks, geese and related birds (Anatidae). However it can also infect many other bird families. A recent study from China shows that free-living tree sparrows collected in 2004 harboured a H5N1 variant virus. This observation gives some flesh to the concern of authorities in Ethiopia that are checking for the presence of the virus in dead pigeons. We know that our Homo sapiens ancestor reached Asia through the South of the Arabic peninsula, and it is quite reasonable to think (and in fact known) that migratory birds are moving in the opposite direction. When the virus will be established in Africa, unfortunately, it will be very difficult to control.
1 december 2005. A team of investigators working in Gabon has identified the Ebola virus in three different species of Fruit bats, where it is asymptomatic. This suggests that these animals are the elusive reservoir of the virus.
29 november 2005. Sonja Olsen and her colleagues at the International Emerging Infections Program in Thailand, showed that forty-one of 109 H5N1 flu cases (38%) identified between January 2004 and July 2005 occurred in 15 families, with between two and five cases per family. While there is an obvious common environment in families, this could be consistent with some propagation of the virus from person to person. Monitoring clusters of infected people is extremely important to evaluate whether the disease becomes apt to spread. According to the WHO Indonesia's 12th human case of bird flu had two brothers who died from similar symptoms a few days before he was taken to hospital. The cause of their death was not investigated.
25 november 2005. Most diseases result from the combination of social practices and pathogenic agents, often starting from more or less innocuous organisms. In this respect, the extremely fast urbanisation process we are witnessing all over the world, in China and India in particular, involve such a high number of people that we should be concerned by the new microbiological niches this creates. In China in 2005, poverty and lack of local job opportunities and the belief of chances of finding work in cities drove an estimated 120 million people to migrate from rural areas to urban areas. Men constitute the bulk of the migration. This creates a huge gender imbalance in a country that already lacks some 30 million women because of a tradition that could not be eradicated by communism, and that was enhanced by the — necessary — one-child demographic policy, favoring boys over girls. The consequence is that there is a considerable traffick of poor girls in the urban areas. It is not difficult, unfortunately, to understand that this situation results in sexual exploitation, with inevitable consequences in terms of diseases transmitted by sexual promiscuity. The All China Women's Federation (ACWF) is trying to set up a series of programmes to help young migrating women (often even children) in particular in the rich Pearl River Delta to be aware of the risk of trafficking and to find means to escape it. The International Labour Organisation (ILO) has set up several programmes to help preventing girls trafficking within China. At a time when 26 bird flu outbreaks have been identified in China, any type of trafficking becomes a matter of extreme concern.
19 november 2005. The fourth Multilateral Initiative on Malaria (MIM) PAfrican Malaria Conference 2005 in Yaoundé, Cameroon, closed yesterday after one week of interesting discussions about the future of malaria research. More than 1,500 investigators met. A study conducted by researcher Afumbom Kfutwah of the Pasteur Center in Yaoundé and his colleagues, suggested that mother-to-child HIV transmission peaked three months after the peak of the rains in Cameroon. As this is the time when mosquitoes multiply, this is consistent with a link between malaria and HIV "vertical" transmission. A student from Cameroon now at the department of Biology, Georgetown University in Washington DC, USA, Geneviève Fouda Amou'ou won the MIM 2005 Young Malaria Scientist Award for her work on antimalarial antibodies in infants.
17 november 2005. There are not yet signs that avian flu can spread from person to person, but as the extent of the area covered by the virus increases more persons are at risk and indeed more are infected. This is the case in the past few days in China and in Indonesia. A difficult situation will be reached when the usual winter human flu types will spread, as we can expect that the most dangerous form of the H5N1 virus will appear when it will be less letal (and therefore more like the "ordinary" flu) while propagating from person to person (also allowing reassortment and recombination between human and bird flu viruses).
14 november 2005. China unfortunately does not differ, in terms of interperson fights, from Western countries. At a dangerous moment where millions of birds had to be slaughtered in several provinces as new outbreaks of H5N1 flu cannot be contained, the various authorities, at the local and national level, compete to avoid being caught in error, or to get the glory of the control of the disease (or identification of a new strain). As avian flu is a zoonotic disease it is dealt with by the Ministry of Agriculture, but, naturally, the Ministry of Health, the Ministry of Science and Technology and the Chinese Academy of Sciences (to name a few institutions) should also be involved in a general collaboration. This is not (yet) the case. We see a situation similar to that during the SARS episode where hospital in Hong Kong fought a bitter fight instead of collaborating. It would be inappropriate to point our finger at the Chinese authorities: we simply have to witness the behaviour of the US Department of Energy versus the National Institutes of Health in genomics to understand that the situation is not specifically Chinese. And what could we say about the Centre for Diseases Control in the 1997 episode and in its creation of the 1918 flu virus?
11 november 2005. The enigmatic correspondence between the brain development and structure and animal behaviour is under intense investigation. After the recent studies indicating that human brain is under ongoing selection pressure, and evolving, a behavioural study suggests that there is a correlation between the IQ level and lower mortality rates. The study shows that the association between childhood IQ and mortality exists even among people with very high IQ scores. The authors claim that the result is independent of childhood social position. There have been several suggestions about why higher childhood IQ might be associated with longevity and the fact that the observation still holds at the higher range of IQs will trigger debates. As usual the intrinsic flaw of correlation studies is that correlation is not cause. However, even considering IQ as irrelevant to define what intelligence is, it monitors some brain activity. And as brain is the basic organ controlling behaviour, any correlation deserves to be investigated in depth. A genetic study on the male courtship behaviour in Drosophila flies identifies a remarkable brain circuitry at work. The gene fruitless (fru) is differently expressed in females and males. The functional Fru protein is present only in males and Fru is necessary and sufficient to induce normal male courtship behaviors in flies. Work by a group of scientists at Hokkaido University of Education in Iwamizawa, Japan, established that neurons in females undergo cell death because they lack the Fru protein. This is the first explicit demonstration of sex determination of neuronal patterns, with direct influence on behaviour. Insects are far from mammals, but it has been repeatedly found that ancestral rules present in insects — including in body plan construction — have (much more evolved) counterparts in vertebrates. We can expect that this is another type of work which will trigger interesting debates. Avian flu, probably in its H5N1 form has been discovered in a migrating flamingo in Koweit. Newcastle disease is active in several European countries (Greece, Slovaquia and France) and in Turkey, and it can be mixed up with avian flu by some. A yellow fever outbreak has been confirmed in the Kayes region of western Mali.
10 november 2005. Mass media, as usual, have a very short memory, and they all stress that China now has its "first" cases of human avian flu, while confusion about the origin of SARS in Hong Kong began because of the simultaneous presence of deadly contamination by a H5 flu virus of a father and his son from the Mainland. In a very dangerous move, scientists in the USA have recreated the 1918 pandemic flu virus. Authorities now will permit exchange of the virus between laboratories, while the National Laboratory in Winnipeg, Canada, plans to recreate the virus for its own purpose! Human hybris is such that we can unfortunately be certain that accidents will happen some day, if not malevolent actions. In parallel with the bird flu scare, mosquito-borne dengue fever affected millions this year, without much public concern. In one of the latest outbreaks Sudan recorded at least 71 deaths from the disease.
9 november 2005. The outbreak of bird flu which affects China is not over. It seems that the number of birds affected in the Liaoning province is so large that millions have to be culled, a task that the local governments appear to have difficulties to apply. In Japan the epidemic is of the H5 type, but the apparent relatively mild infection suggests that it is not of the N1 type.
6 november 2005. Avian flu is still infecting people in Indonesia, where a woman died of the disease after having been infected by dead chicken, a young boy of her family is also hospitalized and it is not clear how he got infected. At least three persons in China are suspected to have caught the disease in one of the recent outbreaks that forced the government to slaughter more than one million birds in an effort to contain the spread of the virus. Honolulu international airport has initiated voluntary tests for airflight passengers.
1 november 2005. An outbreak of Escherichia coli O157H7 affected 18 persons in the South of France. This variant of commensal E. coli, which is a normal host of the human gut, produces dangerous toxins and is the source of recurrent food-borne infection all over the world. The pathogen is often found associated with bovine and may contaminate the food chain when unproperly processed. Bird flu is reappearing at various places in the world (Romania, Thailand in particularn and the virus found in swans in Croatia seems to be of the H5N1 type), but one must be open to other bird infection (such as Newcastle disease) or other variants (the virus in Japan is apparently a H5N2 variant, significantly less dangerous than the H5N1 variant). A control of migratory birds in Tunisia did not show yet the presence of the virus.
26 october 2005. Many diseases are transmitted by mosquitoes, which transport the pathogenic agent from an infected host to a naive one. These insects multiply rapidly and are impossible to control easily. For this reason, investigators explored for some time ideas to make mosquito mutants that would not be able to be infected by the pathogenic agent. In a collaboration between the Johns Hopkins University, the European Molecular Biology Laboratory, Imperial College in London and the University of Texas, scientists uncovered a gene (SPRN6) that is involved in the protection of the Anopheles mosquito against invasion by the Plasmodium malaria parasite. Inactivation of the gene increases the parasite load of the mosquito. There is hope that making this insect immunity pathway more active might prevent mosquitoes to be carrying the malaria parasite. Subsequently, it might be possible to breed mosquitoes with this property and make them replace their counterpart in the environment, thus interrupting the dangerous Plasmodium cycle.
25 october 2005. At a two days meeting on the management of bird flu in Canada, health ministers and authorities of the WHO try to agree on a common reaction to the possible pandemic triggered by the H5N1 virus. Among the most important reaction is the rapid identification of the virus, which can be mistaken in some places for another virus affecting fowl. For example, at this very moment two foci of Newcastle disease affect the North of France (where 300 pheasants died and 1200 had to be slaughtered) and in Denmark. They also discuss the mode of transmission, which is not entirely clear (the same is true for transmission of the paramyxovirus of Newcastle disease), together with containment measures which must be associated with the outbreaks. Many local outbreaks of avian flu are now affecting Europe, Russia and China, perhaps because of the unusually warm autumn. When migratory birds will go south it seems likely that northern Africa will be affected. This is a matter of great concern as implementing measures to eradicate the virus there will be as difficult as in South-East Asia.
21 october 2005. While avian flu seems to be present in inner Mongolia in China, south of Moscow in Russia and extending westward in Europe, Taiwan reported its first cases of avian flu, discovered in a cargo of exotic birds smuggled from China. Smuggling of wild animals should be punished more severely as it deals with endangered species and is a very important source of emerging diseases.
19 october 2005. The first antibacterial of the same class as the innate immunity "defensins" of insects has been isolated in a fungus, Pseudoplectania nigrella. Named "plectasin", it is a peptide that targets bacterial envelopes, in particular killing antibiotic resistant Steptococcus pneumoniae. Plectasin appeared to have very low toxicity in mice, and it might be the first efficient new antibiotic discovered for a long time.
18 october 2005. Rather than duplicate information about the H5N1 viruses at the border of Europe and now probably in Greece, we shall summarize a few concepts needed to understand why this virus is worrying. In short virus families can be split into two broad clusters. A large number, including the influenza virus, are extremely toxic for cells as they multiply fast and kill the cells they invade. They are loosely called cytopathic viruses. Animals have evolved very specific responses to cope with that challenge: they need to have a very fast and efficient response to prevent a major cell death, which would result in the death of the infected individual. The remaining virus cluster is very heterogeneous and comprises viruses which circumvent the host defenses by multiplying more slowly — so as to become less visible — and give rise to persistent infections during which there is plenty of time for the virus to mutate in the host, hence avoiding the host immune defenses. This is the case of the AIDS virus, HIV. After contact with a cytopathic virus, the host evolves first a complex and mechanistically diverse innate immunity response, some of which present as early in evolution as in the insects, to try to get rid of the pathogen. This often succeeds to protect the individual, at least when the number of invading virus particles is not too large. The second response involves a complex interaction between classes of immune system cells, the T and B cells. Following an interaction with T-cells, the B cells produce the well known antibodies which, in the case of cytopathic viruses, begin to neutralize the virus (i.e. stick to it and make assemblies that can be ingested by other types of cells of the immune system and destroyed). This synthesis becomes to be effective after about four days. The concentration of neutralizing antibodies increases very much in a few days, and the individual is cured of the infection, while retaining memory of this event, yielding protection against similar infections usually for several years. This remarkably efficient process, selected through the ages of co-evolution of viruses and organisms, has a drawback: it is extremely selective. The part of the coat of the virus which is recognized by the immune system is but a tiny region. This is the price that had to be paid to construct such an efficient response out of a very complex set of interactions. Now, in turn, the game of evolution, from the virus point of view, is to make this recognized surface structure evolve fast, and therefore avoid protection memorized by possible hosts. This is typically the situation with flu: two surface architectural motifs, named H and N are recognized by the anti-cytopathic viruses response. Under selection pressure they are doomed to evolve: only those mutants of the virus that have escaped the neutralizing antibodies that destroyed their ancestors can propagate, triggering a new epidemy. This is how variants of the H and N motifs, labeled 1, 2, 3, etc in turn invade the bird and human population. More subtle variants superimpose on the major classes. Fortunately, not all combinations are equally efficient for allowing the virus to invade cells, so that it always takes time for a virus to evolve a new virulent form, with a large variation in virulence, and the forms are often somewhat related to one another, so that there is a weak response in any individual, making the virus less pathogenic. However, from time to time, a completely new form appears, for which no protection whatsoever (except of course the innate immunity) is present. This is exactly the situation which is feared in the case of the H5N1 influenza virus complex.
16 october 2005. As mass media widely cover the extent of H5N1 bird flu in Romania we shall not further comment, except to warn against irrational panick. It is clear however that the disease is now likely to remain endemic on the Eastern border of Europe, slowly moving westwards, and, next spring to Northern places. But what may be more worrying is that many of the migrating birds which are the reservoir of the virus will reach Africa, where control measures will be impossible. It is clear, witnessing the situation in Indonesia, that the virus can become endemic in tropical climate.
14 october 2005. Two fatal cases of yellow fever have been recorded in the past few weeks in Senegal at the border with Guinea. The local population has been vaccinated. Cholera keeps its letal progress in Guinea Bissau.
13 october 2005. Romanian ducks have been confirmed infected by a H5-type flu virus. Wild ducks appear to be dying en masse in Iran at the frontier with Azerbaijan, no cause recorded yet.
11 october 2005. A possible outbreak of the deadly Crimean-Congo haemorrhagic Fever is affecting South Africa. This zoonose caused by a Nairovirus spread by a tick vector sometimes affects humans.
9 october 2005. The extent of dengue fever this year is particularly worrying as it is on the increase. Even in the very clean Singapore environment more than 10,000 cases have been recorded so far this year. The area breeding the mosquito vectors covers region with some 2.5 billion persons. More anecdotal but significant, an infection by the bacteria causing American foulbrood of honeybees (Paenibacillus larvae subsp. larvae) has caused the destruction of serveral bee hives in Norway. The origin of the disease is unknown. Turkish turkeys have been confirmed hit by a H5-type flu virus.
8 october 2005. Several sources indicate a mass dying of birds in Turkey (farm turkeys) and in Romania (wild ducks and farm fowls), that may be caused by a strain of avian flu, perhaps coming from migratory birds coming from Siberia or Kazhakstan. If this were the case, this would likely be the H5N1 variant. 7 october 2005. Investigators at the Armed Forces Institute of Pathology in Rockville, Maryland, USA have sequenced the 1918 influenza virus and scientists from the Centers for Disease Control and Prevention in Atlanta have recreated a functional virus, showing its extreme virulence. This triggers a huge controversy (see our position about small pox, which would probably differ in the present case, as the flu viruses reservoir is immense and out of human control, implying that, in contrast to small pox, flu cannot be eradicated) as it is clear that making the sequence public may allow recreation of the virus. The very fact that militaries are involved is a demonstration that the research does have military implications.
6 october 2005. In a series of articles published in the Nature and Science magazines investigators demonstrate, using tissues preserved from two soldiers and an Alaskan woman who died in the 1918 flu pandemic that the virus apparently jumped directly from birds to humans. This is exactly the scenario which is feared for the present H5N1 avian flu episode.
5 october 2005. For two weeks now an outbreak of infection with a highly pathogenic Escherichia coli is affecting schools Wales in UK. More than 150 persons have been affected and a young boy died of the disease. Several local outbreaks are affecting the USA. While E. coli is a normal and innocuous (perhaps even beneficial) host of the human gut (a commensal) some strains can become highly pathogenic and either cause gut, bladder or kidney diseases, and even sometimes septicemia and brain infections. Australia will host in Brisbane, october 31st, a regional meeting to study how to ensure a swift and co-ordinated regional response to contain the expected outbreak of avian influenza.
1 october 2005. A new report, published on line by the magazine Science, shows again that bats are the likely reservoir of the SARS virus.
27 september 2005. Dengue fever is so widely spread in the world that it may affect 100 million people or more every year. It is so common that one is reluctant to mention its outbreaks except when it is locally higher than usual, or new. This year it is affecting the French Department of West Indies, Martinique where more than 6,000 persons have got infected. It is also much stronger than usual in Singapore, despite drastic measures to control mosquito populations. Another viral disease, also transmitted by mosquitoes, Japanese encephalitis, continues to spread in the state of Uttar Pradesh in India as well as in Nepal, where it has contaminated almost one thousand people.
23 september 2005. The World Health Organisation (WHO) is launching a vast immunisation programme for more than half a million people in response to four confirmed new cases of yellow fever, one of them fatal, in southern Burkina Faso near the border with Ivory Coast. Yellow fever is endemic in the region (northern Ivory Coast, Togo, Benin and southern Niger, in particular near the game reserve of Pendjari (Porga), Arly and the Niger W) with a reservoir in rodents. The vaccine is remarkably effective, but the disease, transmitted by mosquitoes, is often fatal. The fatalities caused by the disease were the reason for the selling of Louisiana to the United States at the beginning of the XIXth century.
21 september 2005. After the zoo of Jakarta has been closed when 19 captive birds were found to be infected by the flu H5N1 virus, three members of the personnel are thought to have been contaminated and are hospitalized with suspected H5N1 avian influenza. Since August an epidemic of cholera is affecting the Fujiang province in China. In Africa many foci are still highly active from Senegal, Guinea Bissau to Congo.
18 september 2005. Japanese encephalitis, a mosquito borne viral disease, has killed almost 1,000 people in India, mostly in the Uttar Pradesh state. Fortunately the peak of the outbreak seems to have been reached.
14 september 2005. A series of articles published in this week's magazine Science suggest that the human brain is still undergoing evolution under positive selection. The most remarkable observation is that polymorphism of some genes involved in the construction of the brain results from recent mutations. One type of mutation happened apparently just before humans began to produce artistic artefacts, while another one would be even more recent, just at the time of the neolithic revolution. Of course correlation is not cause, and one should be extremely cautious about interpretation of these data, which are certainly doomed to trigger controversy. However it is fascinating that one of the genes of interest codes for Microcephalin, a protein most probably directly involved in the spectacular increase of brain mass witnessed in humans as compared to non-human primates. Patients without the gene have a brain several times smaller than the normal brain, especially in cortex regions, with normal brain tissue however. Previous studies have shown that Microcephalin is a specific regulator of brain size and that it has evolved under strong positive selection in the lineage leading to Homo sapiens. One of the haplotypes of this gene apparently spread during a very short period of time. Avian flu is present in Indonesia. A detailed study by an Italian group of human sera from exposed poultry workers in Italy shows that seropositivity occurs in poultry workers who were exposed during outbreaks in poultry caused by some avian strains (H7N7, H7N3, and H5N1) but not by others (H7N1 and H5N2). This suggests that some avian influenza viruses are more likely than others to infect humans. More worrying is the observation that both H7N7 and H5N1 strains are more adaptable than other strains. Even worse is the observation that avian flu viruses have more chances than previously suspected to mix with human flu viruses, potentially creating hybrids that could trigger a pandemic. Since june, more than 15,000 people were infected by the cholera vibrio in Guinea-Bissau and more than 250 died from the disease.
11 september 2005. A team led by Yuen Kwok-Yung at the University of Hong Kong found a virus highly related to the SARS-CoV, responsible of the Severe Acute Respiratory Syndrome in 2003-2004, in horseshoe bats. This is a further indication that civet cats are not the reservoir of the virus, as suggested by a previous study that showed that the virus evolved in civets exactly in parallel with evolution in humans. However the way the virus might have come into contact with humans is not clear. Bats are used for traditional medicine and the local population has the habit to eat all kinds of animals. However, among many possible scenarios, they might have been victims of a predator, like civets (bats are frequently the victims of domestic cats), which might then have passed the virus onto humans. This discovery may be revealing as bats are not related to rodents (despite their name as "flying mice" or "flying rats" in several languages), but to Primates, in the superorder Archonta.
8 september 2005. Japan is, once again, affected by the H5N2 avian flu virus. In contrtast to what has been repeatedly stated by proponents of a general use of human embryonic stem cells, these cells have been shown to accumulate many more changes in their genomes than expected, an international team of scientists report in the October issue of Nature Genetics. It is obvious that, rather than pursue experiments on human cells, despite many therapeutical and ethical caveats, much is needed performing research on animals. The situation is paradoxical, as it is often easier now to perform experiments with human living material than with animal material.
2 september 2005. Among drugs developed against cancer, a new one presented at the national meeting of the American Chemical Society, an analog of a carbohydrate (sugar) important for the cell envelope and connection to the outside, a ganglioside, appears to interfere strongly with tumor growth, providing some new hope in improving cancer treatment. Furthermore this compound seems to restore some of the immune system which has been suppressed by the development of the tumors. This could be placed in relation with the observation that membrane turnover and DNA synthesis must be coupled in the cells of higher organisms, an observation that was previously suggested to be important for creating new drugs against cancer.
1 september 2005. Another patient passed away from avian flu in Vietnam. The disease keeps on being contagious from birds to humans, but does not spread between humans, while it stays highly letal. A sign of danger will appear when the disease will become less letal: at that point interhuman contamination might happen.