Atelier: Bords de groupes et cohomologie Lp
Workshop: Boundaries of groups and Lp-cohomology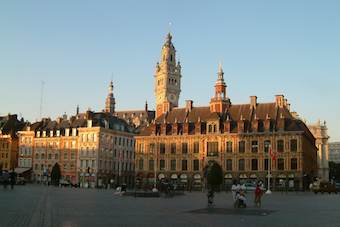 Wed. October 15 (14:00)- Fri. October 17, 2014 (16:00)

Laboratoire Paul Painlevé, université de Lille 1

organized by

Marc Bourdon (Lille 1), Yves de Cornulier (CNRS - Orsay) and Bertrand Rémy (Polytechnique)

This workshop is sponsored by the ANR project Géométrie des sous-groupes, along with GdR Platon and LabEx Cempi

There will be lectures by

Damien Gaboriau (CNRS - ENS Lyon)

Pierre Pansu (Orsay)

Romain Tessera (CNRS - Orsay)

as well as talks by
Matias Carrasco (Orsay)

Antoine Gournay (Dresde)

Jean Lécureux (Orsay)

François Le Maître (Louvain)

Henrik Petersen (Lausanne)

Petra Schwer (Münster) (canceled)



Titles and abstracts; Schedule

Directions to workshop location

If you wish to participate, please register by sending an email to the organizers at cohomologielp@gmail.com, including your position and affiliation. Please register as soon as possible and if possible before September 15, 2014 (registration is free but requested).
We offer some financial support, with a priority to young participants. If you apply to financial support, you need to itemize the amount requested, include a short description of your research and, if applicable, links to your papers. If you are a graduate student, please also mention your adviser.